Using the products we've carefully selected, your operations can be more productive and more profitable.
With over twenty years of experience in sourcing, selling, manufacturing and using products to meet the environmental needs of industry, we offer a full range of what we believe are the most cost-effective, safest and least polluting solutions to meet your needs. We use these products when providing services to clients and also offer them for direct sale.
RamSorb Absorbents
Our primary product line, RamSorb®, is a cellulose, non-toxic, industrial-strength absorbent material that enables fast, cost-effective cleanup of spills. RamSorb® encapsulates the contaminant, is biodegradable, and is safe for your workers and the environment. Our line of absorbents can be used on hydrocarbons, oil on water, acids, petroleum-based paints, and other non-water-based liquids and are available in a variety of applications to suit the situation. RamSorb® absorbents provide cost-effective spill cleanup, and can also be used as an effective means of preventative maintenance.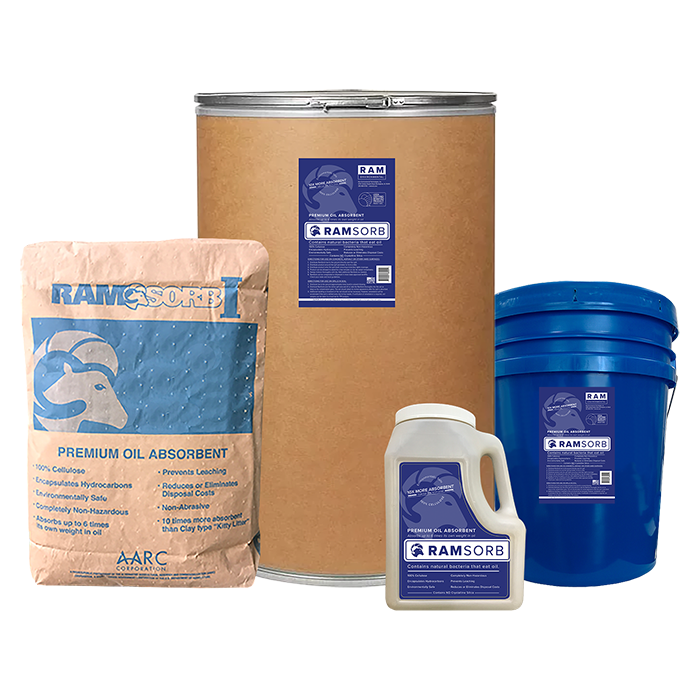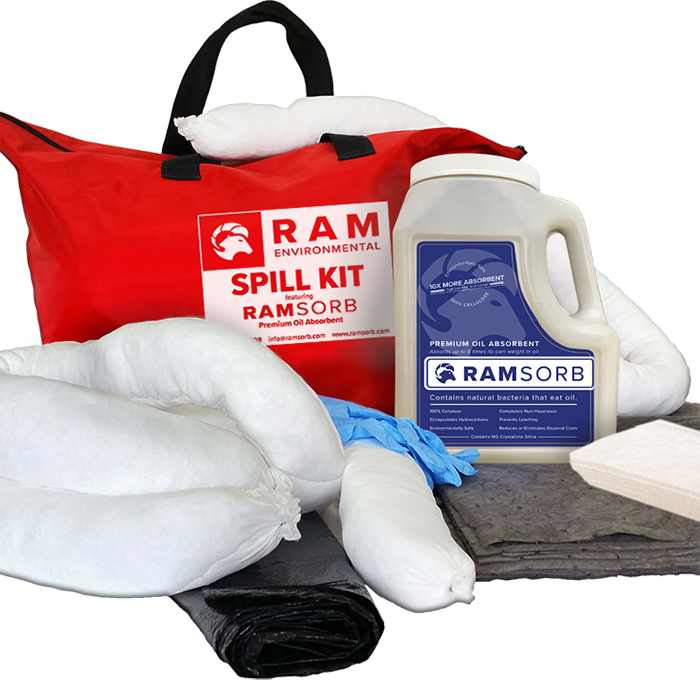 Spill Containment and Response
RAM Environmental Spill Kits allow you to contain and clean up spills quickly and easily and help your company comply with EPA regulations for spill containment. Spill kits feature Ramsorb® absorbents and are available as vehicle bags, drums or industrial carts, depending on your application. Spill Kits can also be tailor-made to fit your specific situation.
Parts Washers
Traditional parts washer solvents are toxic, present a significant health and environmental hazard, require unnecessary paperwork for use and are an entirely avoidable source of liability. RamWash solvent is non-emulsifying, water-based, biodegradable, non-flammable, non-toxic and is extremely gentle to skin, eyes, and mucous membranes. In addition, this product has the unique ability to help release almost all of the oil in an "oil-in-water" emulsion.
RamWash can be used in all normal cleaning operations with exceptional results. This product is an excellent spray-on degreaser and also performs well in hot or cold high-pressure washers for removing heavy grease, oil, carbon, soot, mildew, and many other related problems. RamWash parts washers are fabricated from high-weight polypropylene and stainless steel to retard corrosion and greatly increase the life of the unit.
Filters
RamGuard filters remove both particulate and water from all types of oil and fuel streams, unlike regular filters that only remove particulate and don't address the serious problems caused by moisture build-up. RamGuard filters use a super absorbent polymer embedded into the synthetic filter medium. This polymer will absorb either emulsified or free water several times it's own weight and will not release the water even in high pressure systems.